In 2018, the United States Supreme Court struck down the Professional and Amateur Sports Protection Act of 1992 (PASPA), allowing each state to create its own sports betting legislation.
Over 30 states have since legalized online sports betting, each with their own set of unique sports betting laws. Be sure to check your state's regulations if you want to learn how to bet.
You'll find dozens of different bet types at US sports betting, many of which may confuse newbies.
So if you don't know your moneylines from your point spreads, this guide is for you. We will cover the most popular types of bets in the United States.
1. Moneylines
A moneyline bet is the easiest bet to learn.
You predict which team (or athlete in individual sports like tennis) will win a match. If you are right, you will make a profit. However, you will lose your money if you get it wrong.
With American odds, there is an underdog and a favorite. Favorites are represented by a three-digit number and a (-) symbol, while underdogs are represented by a plus (+) sign.
The number next to the favorite symbol (-) tells you how much you need to bet to win $100. With underdogs, the number next to the (+) symbol tells you how much you win if you bet $100.
For example, prior to the 2022 Super Bowl, the Cincinnati Bengals were the underdogs with odds of +175. The LA Rams were the favorites with odds of -200.
If you placed $100 on the Bengals and the Bengals won, you would have made a profit of $175.
Meanwhile, you would have had to put $200 on the Rams to make a profit of $100.
2. Point Spread
Point spread betting asks you to predict whether a team will win or lose within a certain point margin.
These bets will have American odds but also another number with a (+) or (-) symbol. With the (-), it is the number of points that a team must win for you to win your bet.
The number next to the (+) symbol tells you how many points a team can lose for your bet to succeed. The underdog can also win, and your bet will always be successful.
Let's say the Golden State Warriors are listed at -9.5 and the Memphis Grizzlies at +9.5.
If you bet on the Grizzlies, you will only win if the Grizzlies win the game or lose by 10 points or less because they are the underdogs.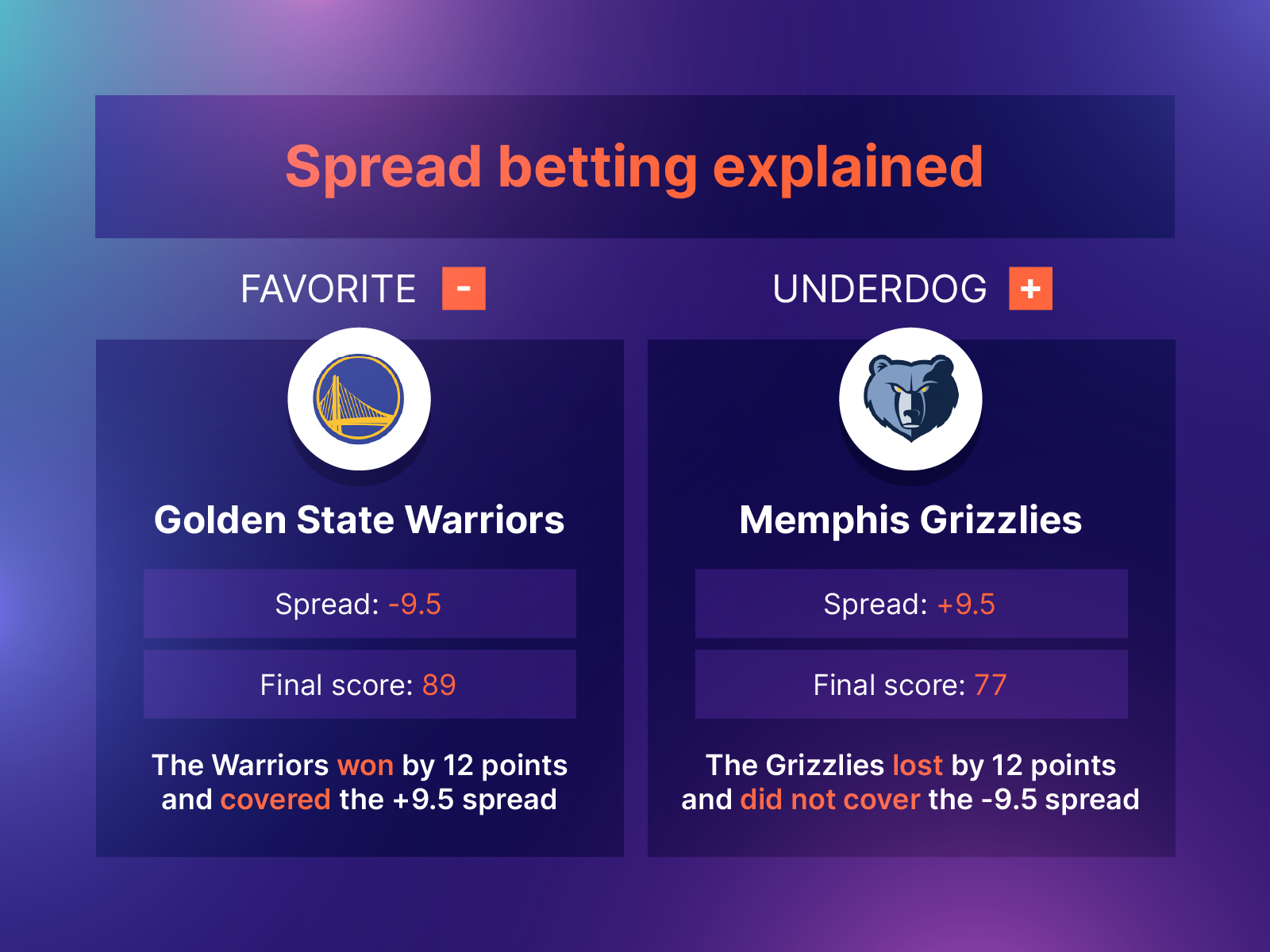 Alternatively, a Warrior bettor must see the team win by more than 10 points.
The American odds next to the point spread bet tells you how much you can win. However, this number does not affect the number of points a team needs.
Point spreads make games with a strong favorite more enjoyable, encouraging bettors to bet on both teams.
3. Parade
A bet (also known as an accumulator) is a combination of several bets into a single bet. Each bet, or leg, must be successful for you to win a parlay.
The bets are much riskier than betting on each match individually, but you also get better odds. Additionally, you can bet on multiple events with a single bet.
For example, you can bet on the San Francisco 49ers to beat the Dallas Cowboys, the LA Rams to beat the Arizona Cardinals, and the Tampa Bay Buccaneers to beat the Philadelphia Eagles in a parlay bet.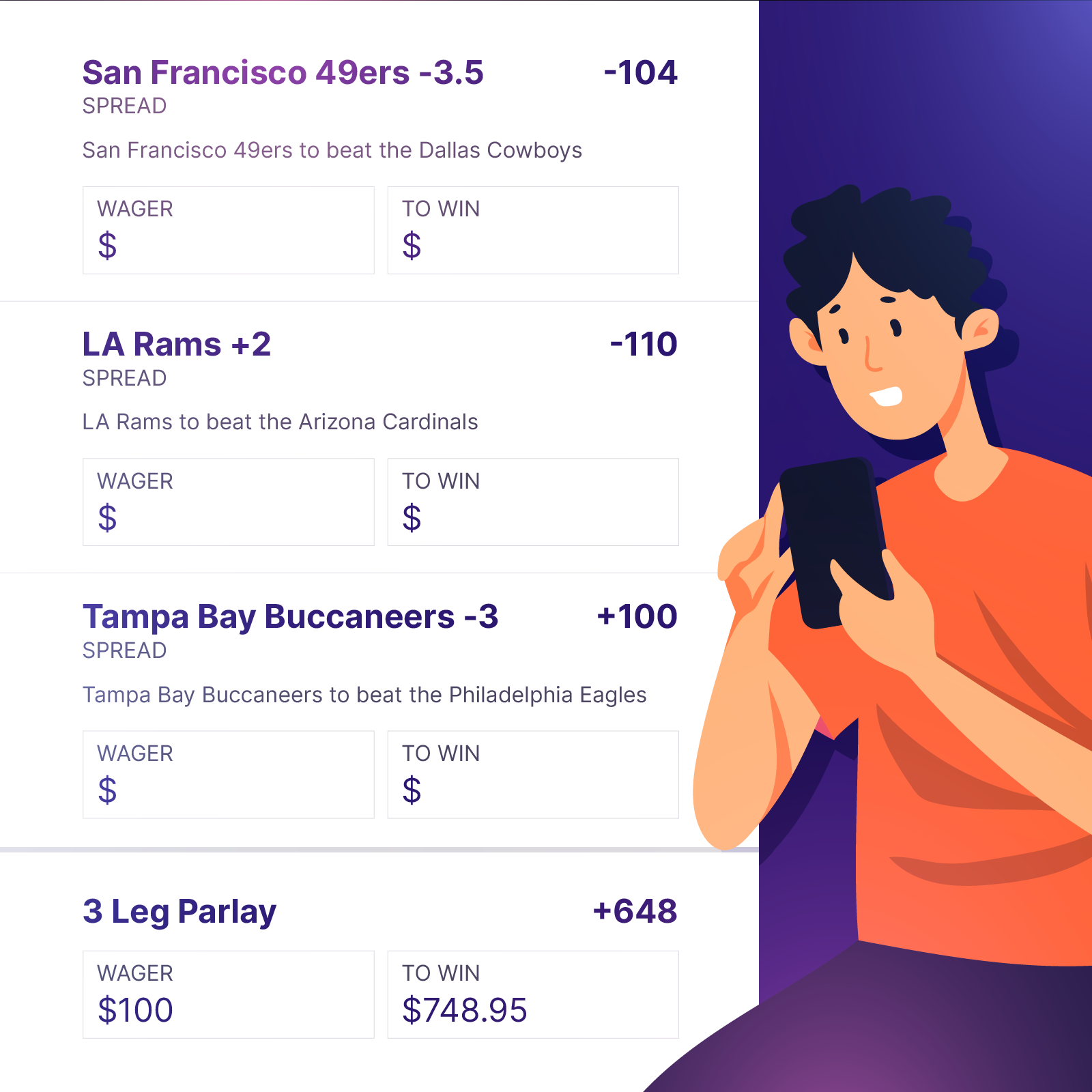 You will need all three of your selections to win for your bet to earn a profit. You will lose your bet if one of your selections is not a winner.
You don't just have to bet on match winners either, with some sportsbooks offering betting on the same game.
With an even game parlay, you could bet on the Bengals winning the Super Bowl against the LA Rams, with Joe Burrow throwing for over 250 yards and Odell Beckham Jr. making four receptions.
4. Over/Under
With an over/under bet, the bookmaker establishes a total (a number set by bettors) for a particular statistic. You then predict whether the result will be above or below that number.
A bookmaker might offer a total of 220 for a game between Boston Celtics and Golden State Warriors. You win if you pick the most and teams score over 220 points combined.
It doesn't matter which team scores the points, as long as the final amount matches your prediction. You will also find over/under bets for markets such as passing yards or 3 points.
5. Bets on accessories
A prop bet is a bet that does not determine the final score, but rather predicts something that may or may not contribute to the outcome of a sporting event.
For example, a prop bet could be placed on individual players to score touchdowns. Touchdowns contribute to the final score, but not the scoring players.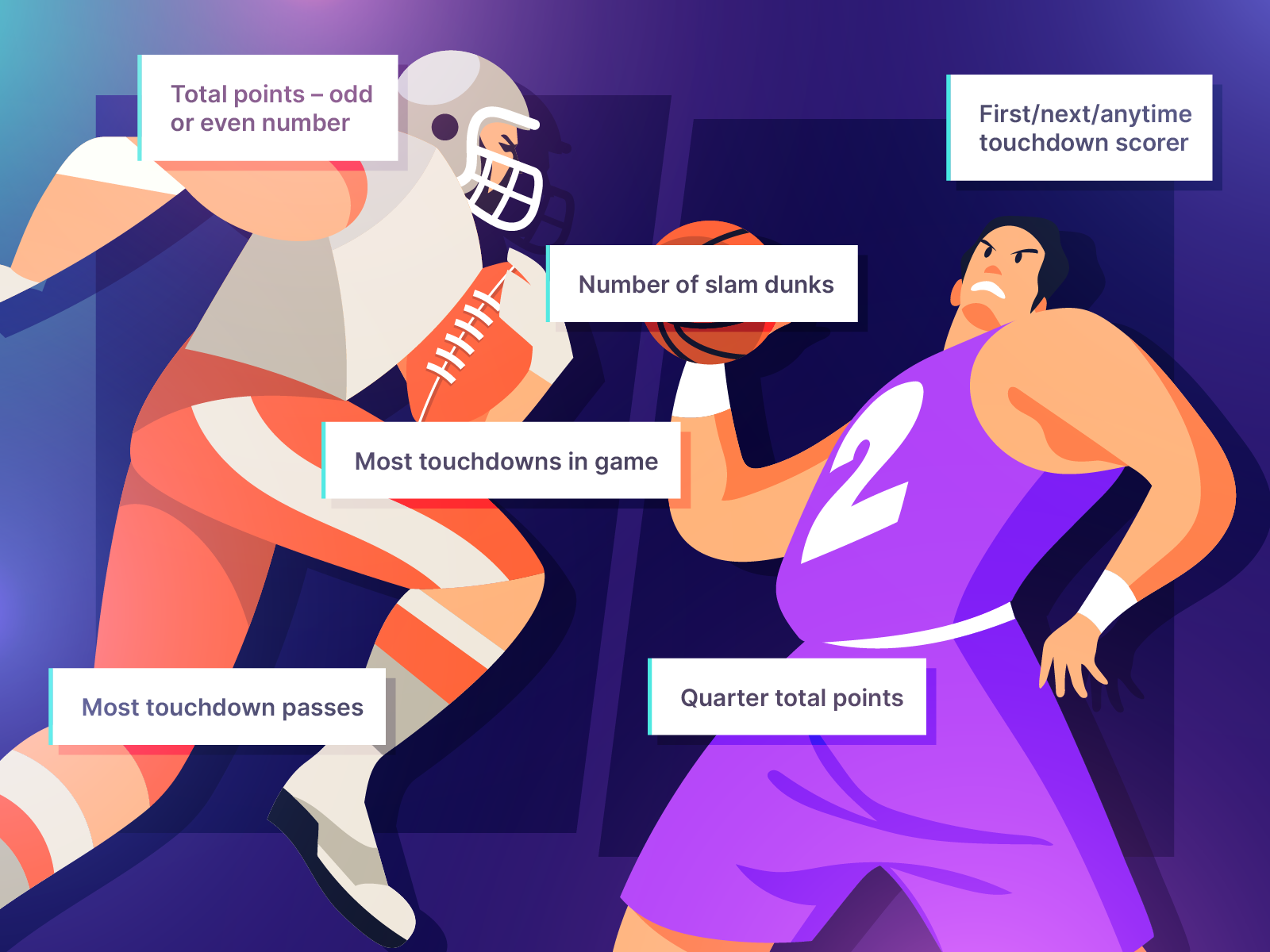 Prop bets in sports are often presented as an over/under, such as a player scoring over/under four runs in an MLB game.
However, you also get "+" bets, which are basically overs. For example, you can bet on an NFL player to record over 90 rushing yards.
You can also place prop bets on individual player stats or the team as a whole.
Still, it is essential to remember that some states prohibit betting on college sports. Be sure to check your local regulations before betting.
6. Futures Contracts
Although all bets are placed on future events, future bets are particularly important for events in the distant future.
Futures contracts include bets on who will win the World Series or which player will win the MVP award.
Odds on futures betting change the closer you get to an event as more injury and form information becomes known.
Betting on futures at the start of the season rather than halfway through is a great way to get the best odds.